pictures from project

"marche et démarche"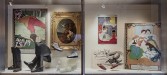 "Marche et Démarche" is not a fashion exhibition.
Because footwear induces the movement of the body, which it accompanies or constrains, it is a captivating document in an exploration of social relationships, status and the image of the body - whether public or intimate
The scenography is therefore designed to highlight the immense variety of proposals and experiences that history and different cultures have given birth to. It's about being attentive to each of the works in particular, and to the meaning produced by the comparisons and confrontations.
Often freeing ourselves from historical or geographical coherence, it is the ways of walking induced by the forms and materials that interest us here: it is those that we want to suggest and transmit. To the point of allowing the visitor, at the heart of the exhibition, to try on replicas of some of the most astonishing shoes in the exhibition!
Through these original assemblages and experiments, which are also illustrated by a rich iconography, the scenography aims to give visitors the opportunity to experience and understand the best and worst of what these apparently simple or simply extraordinary shoes ultimately reveal to us...


Particular attention was paid in the project to the material impact of the scenography. Its development gave rise to exhaustive inventories of the existing material in the museum and encouraged its reuse. Thus, only wooden and cardboard elements were made.
"marche et démarche"
• Commissioned by
Musée des Arts Décoratifs, Paris


• Completion
2020


• Curator
Denis Bruna


• Graphic design
Studio B49


https://madparis.fr/